In 2017 Krefeld-Uerdingen became a unique tourism destination. Beachfeeling, a historic rhine-scenery and urban art have made this place very special and still attractive for visitors.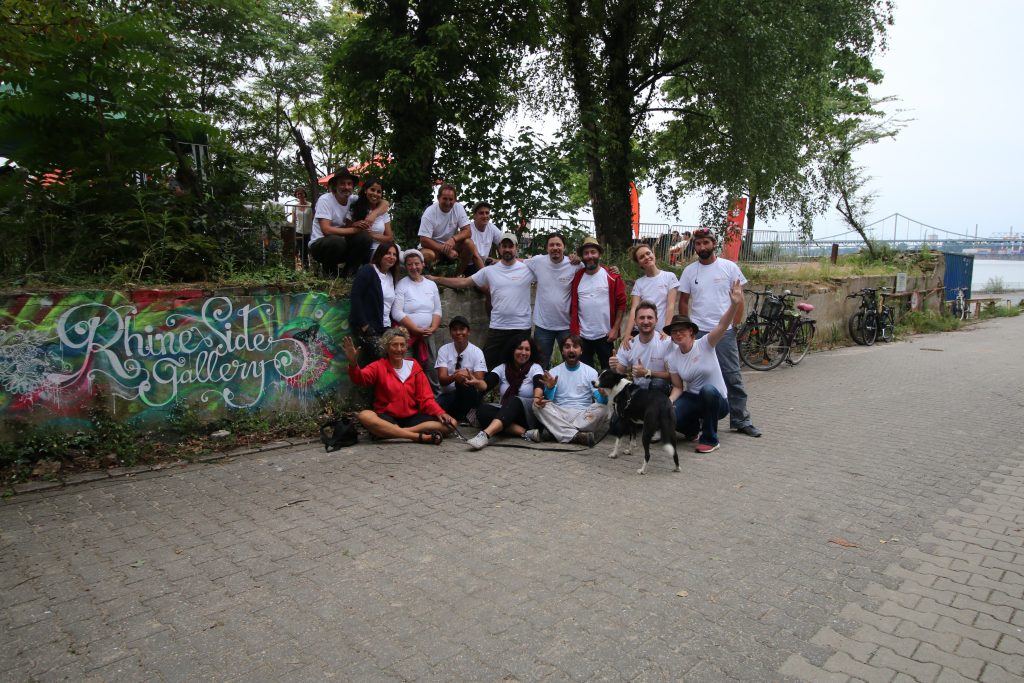 On the behalf of the city marketing Krefeld and in the context of the city marceting campaign "Krefelder Perspectivwechsel" (which meens "Krefeld's change of perspective") I invited 16 international artists to create a streetart gallery at this place.
Each artist chosed an own spot and realised a free design inspired by the scenery and the architecture of the aerea.
Visitors could follow the process of the creation of all artworks and get in contact with the artists. It felt like an open air art studio. The idea behind was to make accessibla a place that before have not been used anymore. We transformed this lost place into a vivid and public art scenery where people make contact with art, artists and with each other. The artworks are easy to understand but also invite the visitors to discussions.
The project was supported by the Uerdinger Kaufmannsbund e.V. who until now each summer season serve for food, drinks and a cultural programe at the "Rhine Side" as is called the beach area of the gallery today.
You can still visit the Rhine Side Gallery for free whenever you want.
Participating artists of the Rhine Side Gallery
Adry Del Rocío – Mexico
More information about the streetart artist:
https://www.facebook.com/streetartmx/
https://www.facebook.com/AdrydelRocio/
https://www.instagram.com/adrydelrocio/
Alex Maksiov – Ukraine
More information about the streetart artist:
Anat Ronen – USA
More information about the streetart artist:
Andrea Libratti – Italy
More information about the streetart artist:
https://www.facebook.com/andrea.libratti.7
Carlos Alberto GH – Mexico
More information about the streetart artist:
https://www.facebook.com/streetartmx/
Fabio Maria Fedele – Italy
More information about the streetart artist:
https://www.facebook.com/fabiofedele.italianstreetpainting
Gregor Wosik – Germany
More information about the street artist:
Danila Shmelev – Russia
More information about the street artist
https://www.facebook.com/people/Danila-Shmelev/100001770393979
Floya Jam – France
More information about the street artist
https://www.facebook.com/floyajam
Ketty Grossi – Italy
More information about the street artist
Marya Kudasheva – Russia
More information about the street artist
Roberto Carlos Trevino Rodriguez – Mexico
More information about the street artist
https://www.facebook.com/roberto.c.rodriguez.391
https://www.instagram.com/robert_kunst/?hl=de
www.youtube.com/channel/UCOq6CTmPxc8WCeA4WWO6UUw
Ruben Poncia – Netherlands
More information about the street artist
Cuboliquido – Italy
More information about the street artist
http://www.cuboliquido.com/portfolios/index.html
Victor Puzin – Russia
More information about the street artist
www.paintpoint.ru
https://vimeo.com/paintpointfilms
http://www.facebook.com/puzzini
http://vk.com/vittoriopuzinni